The most popular herbal liqueurs in the world
Salers Liqueur /CORRÈZE, FRANCE/
This French tint liqueur was first produced in 1885. Then leave to rest in oak barrels Of Lymusin before correcting with sugar, alcohol and water and usually reaches 16% ABV (alcohol by volume).
"Salers" is a complex liqueur characterized by its herbal, citrus notes and light golden color. Its subtle bitterness is best appreciated when served on ice and drunk slowly, but it may also be suitable for making cocktails and long drinks.
Amaro Bràulio /BORMIO, ITALY/
Bràulio is an Italian amaro created in 1875 by Francesco Peloni, a chemist from Bormio who was an expert on medicinal herbs from the Alpine region of Valtelina. Although the recipe and the exact ingredients are kept secret, it is known that the drink is made with a variety of herbs, roots, plants from Valtelina (valley in lombardy region, Italy) as tinty root [ref. 1] , wormwood [ [ref. 2] ], juniper fruits [ [ref. 3] and achilles.
The plants are dried and digested before being added to the alcohol stew. Spring water and sugar are added and the filtered mixture is allowed to mature for two years in Slavonic oak barrels. The process leads to a balanced amaro with amber color, which is slightly bitter, herbaceous and earthy, with notes of sweetness and spicyness.
Liquore di alloro /APULIA, ITALY/
Daffin liqueur is a traditional specialty usually associated with Puglia, although similar varieties can be found in other Italian regions. This green liqueur is produced by soaking fresh laurel leaves Laver (Laurus Nobilis) [ [ref. 4] ] in alcohol. The only other ingredients include sugar and water, which change the sweetness and strength of the liqueur.
When drained and sweetened, Liquore di alloro should stay in a cold and dark place. This aromatic and herbal drink is mostly homemade and is usually consumed as a well-chilled diet.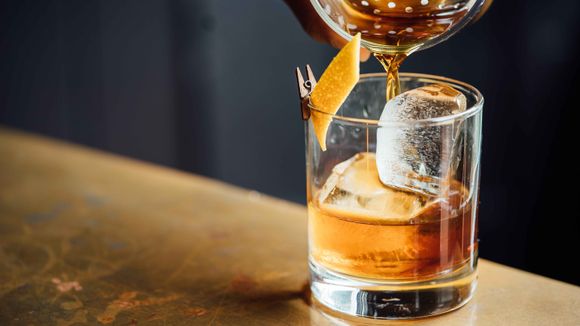 Killepitsch /DÜSSELDORF, GERMANY/
Killepitsch is a German herbal liqueur (kräuterlikör), which is made with an impressive 98 different herbs and spices. The drink has been produced since 1858 by the Bush family from Dusseldorf, and the original recipe is still kept secret.
"Killepitsch" is a rich and smooth dark red liqueur, which is characterized by a bitter-sweet taste and aromas of dried fruits and warming spices. It is best served and taken mostly as a diet. Killepitsch is bottled at 42% ABV, so care should be taken with the consumption of large quantities.
Amaro Nonino /PERCOTO, ITALY/
"Amaro Nonino" is a type of amaro made from aged grape brandy and macerate, which includes various plants. The combination matures for a minimum of five years in Nevers, Limousin and ex-sherry oak barrels. The resulting drink has a warm amber color.
The aroma is dominated by orange peel and is complemented by apricots, caramel, fine baking spices and some herbal notes. The taste is bitter-sweet, with sweet and spicy notes. Although it is quite innovative Italian amaro – it was introduced in 1992 – this herbal liqueur is produced by the Nonino family, which has been in the drinks business since the late 19th century.
Kuemmerling /BODENHEIM, GERMANY/
"Kuemmerling" is a type of herbal liqueur that is classified as kräuterlikör. It was created by Hugo Kumerling in 1938, and since 1963 the drink has been produced in Bodenheim. Although the exact recipe is kept secret, "Kuemmerling" was created with a large selection of herbs and spices such as cloves [ [ref. 5] ], cinnamon bark [ [ref. 6] ,, licorice, wormwood, mint [ [ref. 7] ], marsh ayr [ [ref. 8] ] and angelica root [ [ref. 9] ].
This is a drink of amber color, which is characterized by herbaceous and bitter tastes. The drink is bottled at 35% ABV and is usually sold in miniature spirits bottles of 20 ml.
This liqueur is best served chilled, preferably in a glass of shot, and is mostly consumed as a DJ.