Tea tree is a very well-known essential oil, which is usually used because of its strong antifungal properties. Tea Tree (or Melaleuca Alternifolia) is also one of the most widely studied, documented and clinically proven therapeutic essential oils available for use today. Tea tree is one of the oils that have been used in folk medicine for millennia and is one of the strongest antiseptics. The oil is obtained from leaves and branches by steam distillation and is used as complementary therapy in surgery, with various types of burns and dental problems, bronchial congestion, infected wounds and much more.
Melaleuca alternifolia, commonly known as "tea tree", is a type of tree or tall shrub of the Myrtovi family - Myrtaceae. Endemic species for Australia (characteristic ofa certain geographical location), Melaleuca Alternifolia is found in southeastern Queensland and the north coast and adjacent ridges of New South Wales, where it grows along streams and in swampy plains and is often the dominant species, where it can be detected. [ref.1]
Melaleuca alternifolia has been used as a tool of traditional medicine by Aborigines. These Indigenous Australians crush the tea tree leaves to extract the oil, which is then inhaled to treat cough and cold or applied directly to the skin.
In fact, the plant did not get the name "tea tree" until 1770, when the name was given by British explorer Captain James Cook and his crew. Although Cook's crew first used the tea leaves, he later mixed them with spruce leaves like beer. The medicinal properties of the plant remained a secret to Australian Aborigines until the early 1920s, when the chemist from Sydney, Australia, Dr Arthur Penfold, examined its antiseptic properties. A short time later, Penfold published "Australian Tea Trees of Economic Value."
Today, tea tree oil is widely available as 100% undiluted or "clean" oil. Diluted forms are also available, ranging from 5-50% in products intended for the skin. It is more interesting to tell you about what oil can be useful for and how it is used, so we continue with the answers to these questions.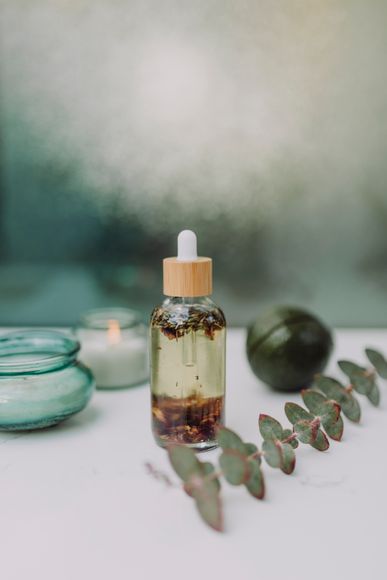 Photo by RODNAE Productions from Pexels
Composition and useful properties of the tea tree
Composition
Tea tree oil consists of terpene hydrocarbons, mainly monoterpenes, sesquiterpenes and related alcohols. Terpenes are volatile, aromatic hydrocarbons and can be considered polymers of isoprene, which has a formula C5H8. The more significant are terpinen-4-ol, γ-terpinene, 1,8-eneol, α-terpinene, α-terpineol, p-cimen and α-pinene. With biological activity, the antimicrobial activity of tea tree oil is mainly attributed to terpine-4-ol.
Useful properties
Antimicrobial action
It is known that a wide variety of essential oils have antimicrobial properties, and in many cases this activity is due to the presence of active monoterpene ingredients. This also applies to the tea tree - Melaleuca Alternifolia has proven antimicrobial and anti-inflammatory effect thanks to its components, as well as proven clinical efficacy [ref.1]
The in vitro antifungal activity of Melaleuca alternifolia essential oil was evaluated against 26 strains of different types of dermatophytes, 54 yeasts, including 32 strains of Candida albicans and other Candida sp., as well as 22 different strains of Malassezia furfur. [ref.2] Tea tree oil inhibits breathing in cell suspensions of E. coli, providing evidence of lethal action associated with damage to the cytoplasmic membrane. [ref.8]
Similar to the results found for bacteria, tea tree oil alters the permeability of C. albicans cells, as well as the opportunistic Candida glabrata, which has high resistance to certain antifungal drugs and can cause infections affecting the urinary tract, genitals, mouth or blood flow (in some risk groups with impaired immunity, this is especially dangerous). [ref. 3, 4]
From the more recent discoveries about the tea tree, the most promising new function of the oil is counteracting the methicillin-resistant Staphylococcus aureus (MRSA). [ref.5]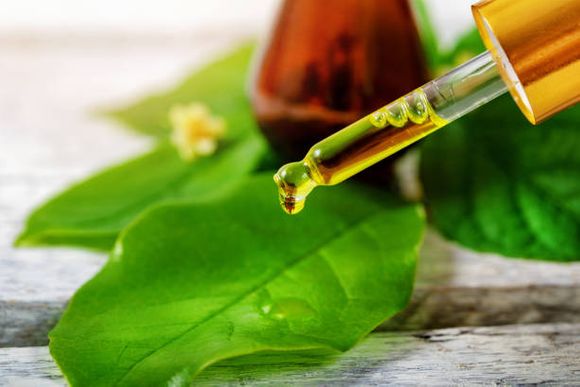 Anti-inflammatory action
Tea tree oil can help reduce inflammation, which is due to the high concentration of terpine-4-ol, a compound with anti-inflammatory properties. In animal tests, terpine-4-ol was found to suppress inflammatory activity in cases of infection in the mouth. In humans, locally applied tea tree oil reduces edema more effectively in inflammation of the skin caused by histamine than paraffin oil.
In vitro studies over the past decade have shown that tea tree oil affects a number of immune responses, both in vitro and in vivo. For example, water-soluble components of oil can inhibit lipopolysaccharides-induced production of inflammatory mediators tumor necrosis factor alpha (TNF-α), interleukin-1β (IL-1β) and IL-10 from monocytes of human peripheral blood by approximately 50% and that of prostaglandin E2 by about 30%.
Another interesting field of research shows that terpine-4-ol modulates vasodilation and plasma extravasation associated with histamine-induced inflammation in humans. In other words, the active ingredient of the oil can help alleviate the symptoms of histamine intolerance.
The potential anti-inflammatory effects of Melaleuca alternifolia essential oil on human peripheral blood leukocytes also examined the fungicidal and bactericidal action of Melaleuca alternifolia essential oil. Data show that Melaleuca alternifolia can effectively protect the body by reducing the proliferation of inflammatory cells without affecting their ability to secrete anti-inflammatory cytokines. [ref.9].
Tea tree essential oil is an excellent natural antiseptic for skin infections, and the oil is recognized as one of the most powerful antiseptics in nature. The oil immediately penetrates into the outer layers of the skin and is mixed with the body's oils to treat conditions such as insect bites, cuts, burns, acne, infected wounds, bruises, runny nose, diaper rash, mycosis, hives and sunburn. [ref.
Means of personal hygiene
To combat plaque, it is recommended to wash teeth with toothpaste containing tea tree oil or add a little to a simple toothpaste, as well as adding a few drops of tea tree oil to mouthwash. The latter helps both teeth and gums. With inflamed gums, a few drops of oil can be used to smear on the sore spot.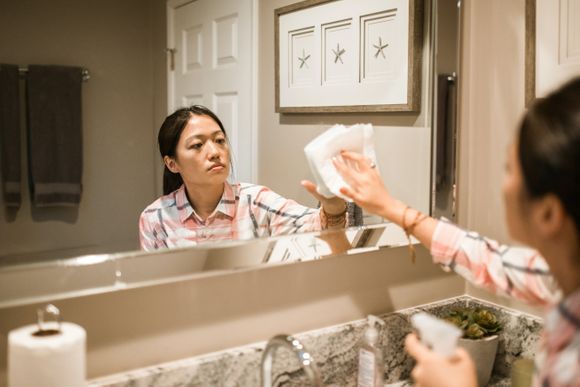 Photo by RODNAE Productions from Pexels
Tea tree oil has a pronounced antioxidant effect, which is beneficial for anti-ageing effect, reducing dark circles under the eyes, wrinkles, fine lines, pigment and other spots and imperfections on the skin. You can apply tea tree oil with a cotton swab to the affected areas or if you have sensitive skin - mix it with jojoba oil, almond or coconut oil before use.
You can also try 2 drops of tea tree oil and 1 spoonful of honey with which to clean your face and prevent the appearance of acne. The easiest methods of treating acne with tea tree oil are to wash the face with soap containing tea tree essential oil, or apply twice a day cleaning.
Means of cleaning the home
The natural properties of tea tree oil solvent make it an excellent biodegradable cleaning product. Can be used as a deodorant or disinfectant; to remove mold; for the treatment of indoor plants for mold, fungi and parasitic infections. Here is an easy recipe for a completely natural, universal tea tree cleaner:
Combine 20 drops of tea tree oil, 3/4 cup of water and 1/2 cup of apple cider vinegar in a spray bottle.

Shake well until the ingredients are mixed.

Spray directly on the surfaces and wipe with a dry cloth.

Be sure to shake the bottle before each use to mix the tea tree oil with the other ingredients.
In addition to its scientifically justified benefits, tea tree oil is available and safe to use when used as directed.
People usually apply tea tree oil to treat mild cuts, burns, acne, mycosis, mild fungal infections, vaginal fungal infections and lung problems (when the oil is added to a bath or diffuser along with other essential oils). There are a large number of studies on tea tree oil that show that it is safe and often effective for the prevention and treatment of infections.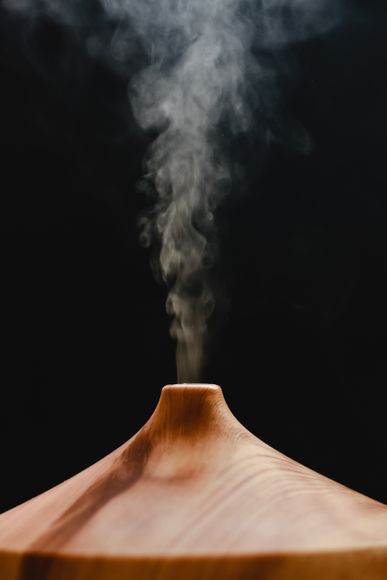 Photo by Eva Elijas from Pexels
Tea tree oil can be found in various skin and hair care products, from soaps to shampoos, soothing and nourishing masks, face creams and even anti-dandruff masks. Tea tree can also be an ingredient in formulas of household cleaners, such as antibacterial sprays for kitchen and disinfectants for toilets.
If tea tree essential oil is applied to the skin, first dilute it with base oil. Never apply pure tea tree oil to your skin, as it can cause unwanted side effects such as skin irritation. Always use diluted tea tree oil so as not to annoy your skin. [ref. 6]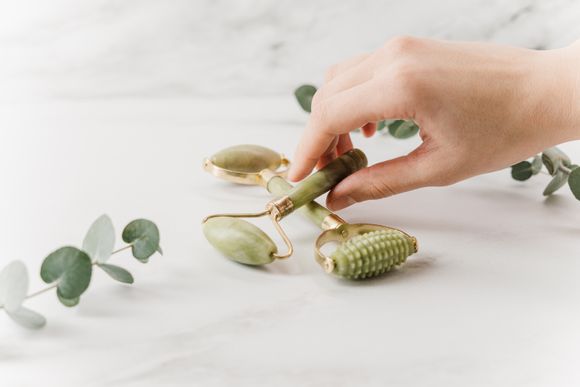 Photo by cottonbro from Pexels
Generalization
Tea tree oil is obtained by distilling from the leaves of the Melaleuca alternifolia plant, which is found only in certain places in Australia.
It has been proven that the oil has antibacterial, anti-inflammatory, antiviral and antifungal properties and can be applied safely for their treatment. For example, a person can use tea oil to treat acne, contact dermatitis, stomach and intestinal parasites, abscesses, burns, bronchitis and many other health problems.
In addition to the medical aspect, tea tree oil is also used as an antibacterial and disinfectant in antiseptic and disinfectant preparations, as well as in numerous cosmetic products. Tea tree oil should never be swallowed.
A versatile herb that was launched by Aborigines in Australia, Melaleuca alternifolia is impressive with its richly prized composition and numerous applications. Its properties have been scientifically studied and proven in both animals and humans.