Rose geranium oil belongs to the botanical family Pelargonium. [ref. 1] While geraniaceae is known as "True Geraniums", the Pelargonium plant group is commonly called "Scented Geraniums" and may have the following flavors:
Rosy- rose

Citrus - orange, lemon, lime

Fruit - strawberry, apricot, apple, coconut

Nut - hazel

Spicy - nutmeg, ginger
The geranium is identified by the botanical name Pelargonium graveolens, and the specific botanical name of Rose Geranium is Pelargonium graveolens var. roseum.
It is also called "rose-scented geranium", "geranium with a sweet aroma" or "old-fashioned pink geranium". The plant has velvety, plush leaves and flowers that bloom pale pink or almost white.
Native to South Africa, pelargoniums are known for having a calming effect on the skin and can be used for traditional medical purposes. For example, they have been used to treat burns and other local diseases. For centuries they have also been widely used to soothe the symptoms of respiratory diseases, such as cough and tuberculosis, as well as gastritis and dysentery. In the 17th century, after being introduced to European countries, plants of the Pelargonium family began to be used as a protective environment around households, since it is believed to have protective properties that can repel evil spirits.
In particular, some claims about the essential oil of pink geranium are well studied and proven, while others are not so well documented. The confirmed benefits of pink geranium essential oil so far include:
Antioxidant and anti-aging properties
Rose geranium oil is an active ingredient in some cosmetic products, such as lotions and aromas. A review of 2017 studies shows that antioxidant properties in rose geranium oil can help reduce signs of aging. [Ref. 2]

Antioxidants are well studied as natural powerful compounds to improve your skin's ability to detoxify and protect against damage from environmental factors.
Anti-inflammatory properties
The anti-inflammatory properties of rose geranium oil have been proven in animal studies. In fact, a 2013 study showed that rose geranium oil had a strong impact on reducing swelling of mice' paws and ears. This study suggests that rose geranium oil may be the basis of new anti-inflammatory drugs that may have less harmful side effects than current drugs. [ref. 3]

Rose geranium oil has strong antimicrobial, antifungal and antiviral properties. In the food industry, rose geranium oil is even used as a natural preservative in some food products. A 2017 review of studies indicated that rose geranium oil reduces bacteria, fungi and viruses that cause skin diseases and infections. [Ref. 4]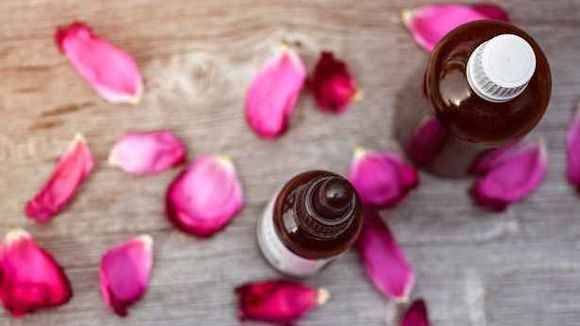 Analgesic and anti-stress effects
The scent of rose from the pink flower has been studied as a means of improving relaxation, relieving pain and soothing anxiety in clinical conditions. It is unclear whether the fragrance itself, the aroma or chemical agent in the aroma that creates this chemical reaction in the brain, provides these effects. [Ref. 5]

Rose geranium oil is found in many cosmetic products, including soaps, fragrances, lotions and anti-age cosmetics.
Used as a tool for aromatherapy for its sweet, floral, citrus shades, the essential oil of rose geranium has a soothing sedative effect that promotes relaxation and destress.
When used in natural formulas for body care, it is known to promote relaxation of the body, deodorizing, promotes faster fading of scars and spots, soothes the symptoms of eczema, acne, dermatitis, fungal infections and rashes and generally rejuvenates the skin color. Used in a natural shampoo formula, it is known that rose geranium soothes inflammation of the scalp and balances oil production to prevent the appearance of dandruff.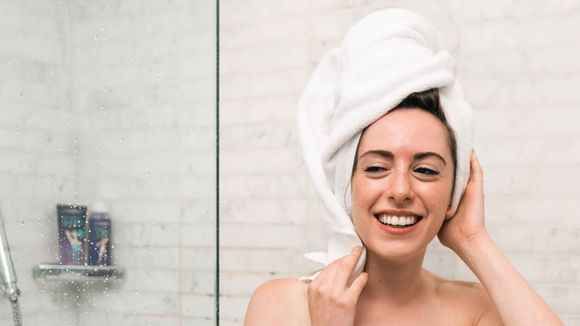 Used as a medical tool, rose geranium oil acts as a blood-stopping agent that helps to stop blood flow when applied to minor wounds, bites and other skin problems. This activity helps to protect against the development of infections while accelerating the healing process. Its anti-inflammatory action helps to reduce discomfort from musculoskeletal diseases and skin conditions. It is considered that this oil can function as a diuretic that helps stabilize the body's fluid systems, thereby coping with fluid retention, relieving edema and restoring the correct function of body waste elimination systems to cleanse body toxins.
There are formulas of dietary supplements for weight loss, which include rose geranium oil as an "active ingredient". There are no studies to show that rose geranium oil can help you lose weight or build muscle, although it can help you regulate your blood sugar.
Rose geranium oil can be used in a diffuser, inhaled, added to a warm bath or mixed with base oil, then applied topically.