What is Sempervivum tectorum L.?
Sempervivum tectorum is a plant that in Bulgaria we call "debelets". [ref. 1] Sempervivum tectorum is a decorative, evergreen, perennial succulent that usually forms rosettes up to 10 cm in diameter, with 50 to 60 thick, bare leaves. They are green, sometimes with purple tips. The maternal rosette spreads in all directions through horizontal stems to form branches. In summer, leafy, smoky, upright flowering stems rise from the mother rosette up to 30 cm tall, covered in a color of red-purple colors. [Ref. 2]

Sempervivum in Latin means "live forever". Its name embodies the ability to survive even under different conditions, but also embodies the place where the plant can most often be found – right on the roofs of the houses. Old people believed that it would protect them from lightning, diseases and witches.
Its healing properties are due to the presence of malic and formic acid in the first place. Sempervivum tectorum L. acts similarly to aloe vera and is considered one of the safest drugs for a wide range of skin diseases.
Healing benefits of Sempervivum tectorum
Sempervivum tectorum leaves and juice are used due to their cooling and astringent action, applying externally to soothe many skin diseases. As with many other means that are both astringent and soothing, thick juice simultaneously tightens and softens the skin.
Fresh leaves are astringent, diuretic, cooling as action. They are used as a paw almost in the same way as aloe vera in the treatment of a wide range of skin diseases, burns, bites and stings, etc., and are also used to remove stubborn warts and calluses.
The Sempervivum tectorum plant is sometimes also used internally for the treatment of shingles, skin complaints and hemorrhoids, although some care is required, since in excess the plant can have a laxative effect or cause vomiting. The leaves are picked as needed and used fresh for this purpose.
In the study "Wound healing activity and phytochemical screening of purified fractions of Sempervivum tectorum L. leaves on HCT 116" examines the potential activity of the thicket for wound healing, the rate of proliferation and intracellular signaling cascades using cells of human epithelial colorectal cancer (HCT 116). The results confirm the efficacy of purified fractions of S. tectorum L. to enhance cell proliferation and migration, suggesting their potential role as local therapeutic treatments for wound healing. [ref. 3]

In another study , "Evaluation of Radical Scavenging Activity of Sempervivum tectorum and Corylus avellana Extracts with Different Phenolic Composition" the antioxidant activity of the plant and its diverse phenolic composition is analyzed. [ref. 4] Antioxidant activity is slightly lower compared to that of Corylus avellana - the ordinary hazel. [Ref. 5]

In Bulgarian folk medicine, one of the most famous areas of application is in inflammation of the ear due to the anti-inflammatory action of the plant juice. The ethnopharmacological use of S. tectorum juice for the treatment of ear pain has been demonstrated in "Ethnopharmacological uses of Sempervivum tectorum L. in southern Serbia: Scientific confirmation for the use against otitis linked bacteria", since the juice possesses antimicrobial activity relative to clinical isolates of otitis-related bacteria. [Ref. 6]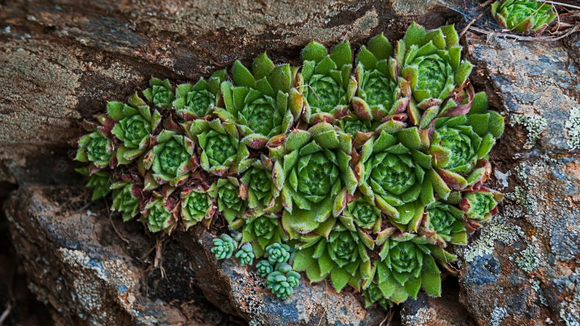 Recipes for the use of Sempervivum tectorum
Cut a few leaves in half and squeeze two or three drops of their juice into the sick ear. Let the liquid work for a few minutes, then turn over to drain the liquid from the ear cavity.
Plain tea
You can also use Sempervivum tectorum to make a tea. Tea is very easy to prepare. Place a few dry chopped leaves in a small bowl with 250 ml. temperature of not more than 80°C for about 15 minutes. Then let the tea cool, drain it and drink. Tea can also be used to soothe irritated skin.
Simple recipe for Sempervivum tectorum and honey
Ingredients:
300 grams of juicy Sempervivum tectorum leaves

500 grams of honey

200 ml lemon juice
Instructions for preparation:
The leaves of Sempervivum tectorum and lemon juice are mixed in a blender.

Combine the mixture with the honey.

Put the mixture in a glass jar, wrap it in foil and refrigerate it.

Take one teaspoon in the morning on an empty stomach, half an hour before breakfast.