Traditional Chinese Medicine for Respiratory Viruses
The outbreak and spread of coronavirus infection (COVID-19) caused by severe acute respiratory syndrome coronavirus 2 (SARS-CoV-2) has caused huge losses of lives and property around the world. Globally, as of 24 January 2023, there were 664,097,132 confirmed cases of COVID-19, including 6,716,108 deaths reported to the World Health Organization (WHO). [ref. 1]
SARS-CoV-2 is a wrapped, single-stranded, positive, β-coronavirus RNA virus that belongs to the subfamily Coronavirinae, family Coronavirdiae, order Nidovirales. SARS-CoV-2 is transmitted from person to person through respiratory droplets, a high concentration of aerosols, and sometimes through feces or urine. Currently, no approved specific antiviral drug is recommended to deal with COVID-19. Infection with it in more severe cases can lead to acute respiratory distress syndrome (ARDS), multiple organ dysfunction syndrome (MODS), and even death.
It is well documented that traditional Chinese medicine has accumulated abundant clinical experience and effective prescriptions for the control and treatment of infectious diseases in about 500 epidemics that have occurred in China for more than 3,000 years in the past. [ref. 2]
The combination therapy of traditional Chinese medicine and Western medicine significantly reduces mortality, shortens the duration of fever, reduces abnormalities of chest X-rays, and relieves secondary fungal infections among patients receiving glucocorticoids in the fight against severe acute respiratory syndrome (SARS). [ref. 3] There is also evidence on the positive role of traditional Chinese medicine in the treatment of previous coronavirus pneumonias such as SARS, MERS and other epidemic diseases. [ref. 4]
Traditional Chinese medicine in the treatment of COVID-19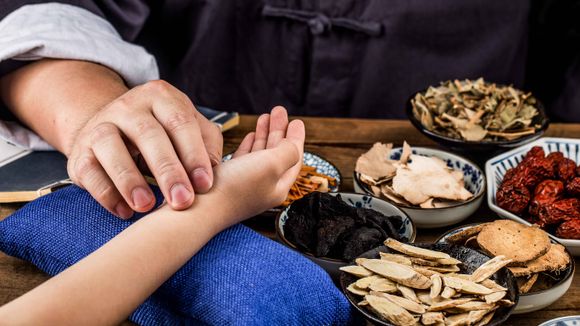 From the perspective of this medical system, the different stages of COVID-19 disease can be divided into mild, moderate, severe and critical. The main models in the mild stage include balancing the lungs and removing pathogenic factors. The main models in the moderate stage include elimination of heat and moisture, detoxification and invigoration of the spleen. The main heavy-stage models focus on toning qi and yin, ventilating qi on the lungs, co-healing the lungs and intestines. Finally, critical stage models require toning qi and preventing exhaustion, cooling blood and nourishing yin and restoring consciousness. Distinguishing each stage is one of the most important principles of TCM for the treatment of COVID-19.
Traditional Chinese medicine's recommended remedies for each stage of COVID-19 treatment include more than 18 natural remedies. Among them, highly recommended Chinese herbs are Scutellaria baicalensis (Huangqing), Rheum palmatum (Da Huang), Bupleurum chinense (Chai Hu), Gingko Biloba (Ping Yin), Artemisia annua (Huanghua Hao), Glycyrrhiza glabra (Gan Cao) and Zingiber officinale (Shen Jian).
Potential mechanisms of the most commonly used Chinese herbs with proven antiviral effect
Scutellaria baicalensis, commonly known as Shlenmnik Baikal or Chinese helmet, is a type of flowering plant in the family Lamiaceae. The main bioactive compounds extracted from the root of S. baicalensis are:
Baikalin

Vogonozide

Baikalein Vogonin [ref. 5]
Each of these active components is known to have physiological effects as well as cytotoxic or side effects when used in high concentrations. These flavones have been reported to have different pharmacological functions, including anticancer, hepatoprotective, antibacterial and antiviral, antioxidant, anticonvulsant and neuroprotective effects.
Lung Fufang, a type of traditional recipe using Huangqing, has been found to be able to prolong the survival rate of patients with primary bronchial lung squamous cell carcinoma and has a similar effect in patients with NSCLC (non-small cell lung cancer). [ref. 6]
The plant exerts an antiviral effect and inhibits the activity of 3CLpro. It has a beneficial effect on the proper activity of the nervous system, favors the normal processes of sleep, nervous system, immune system and cardiovascular system.
It is not recommended for people suffering from liver diseases, as well as those using anti-weight loss drugs and some painkillers.
Rheum palmatum (Da Huang)
Rheum palmatum (Dahuang) - Rheum palmatum is a species of flowering plant in the family Polygonaceae. It is commonly called Chinese rhubarb and contains the active ingredient emodin, which is thought to be able to block the pinning of the spiked protein to ACE2 in the case of COVID-19 infection.
Emodin is a naturally occurring derivative of anthraquinone, found in the roots and leaves of various plants, fungi and lichens. It has long been used in traditional Chinese medicine as an active ingredient in herbs. Emodin has a wide range of biological actions, including diuretic, antibacterial, anti-ulcer, anti-inflammatory, and anti-cancer. [ref. 7]
The use of Rheum palmatum (Da Huang) is also recommended for bacterial infections, overactive immune system, cough, tumors and high blood pressure.
In rare cases, Rheum palmatum can irritate the digestive tract.
Bupleurum chinense (Chai Hu)
Radix Bupleuri (Chaihu) is derived from Bupleurum chinense and has been used as a traditional Chinese medicine for more than 2,000 years in China, Japan, Korea and other Asian countries. Phytochemical studies have shown that this plant contains essential oils, triterpenoid saponins, polyacetylenes, flavonoids, lignans, fatty acids and sterols.
Crude extracts and pure compounds isolated from Radix Bupleuri showed various biological activities, such as anti-inflammatory, anticancer, antipyretic, antimicrobial, antiviral, hepatoprotective, neuroprotective and immunomodulatory effects.
However, Radix Bupleuri can also lead to hepatotoxicity, especially in high doses and with long-term use. Pharmacokinetic studies have shown that the main bioactive compounds in Chai Hu are:
saicosaponini a

Saicosaponi B2

saicosaponini c

saicosaponini d
According to scientific data, Radix Bupleuri extract has a significant antiviral effect in acute respiratory tract infections with H1N1 and inhibits influenza virus-induced RANTES secretion in H1N1-infected A549 cells at concentrations of 100 and 200 μg/ml. This suggests that Radix Bupleuri may be beneficial for the treatment of chronic inflammatory conditions, followed by a viral infection.
In another study, the antiviral activity of saicosaponins (a, b2, c and d) and their mode of action was investigated. The results showed that all saicosaponines exhibited antiviral activity on human coronavirus-229E at concentrations of 0.25–25 μm, and the strongest activity was observed for saicosaponin b2 with an IC50 of 1.7 μm. [ref. 8]
At high doses, it can have the opposite effect on the liver.
Gingko Biloba (Pin Yin)
Ginkgo biloba, the oldest tree on the planet, originated in China and has been cultivated for thousands of years for various purposes. Ginkgo biloba is rich in antioxidants and can help reduce inflammation. It may also be beneficial for heart health, brain function, and eye health, along with several other conditions.
Ginkgo biloba may reduce the risk of infection due to the content of quercetin and other ingredients such as ginkgolic acid (GA), which have anti-inflammatory and immunomodulatory effects, acting by reducing concentrations of pro-inflammatory cytokines. The antiviral effect of ginkgo extract is mediated by various mechanisms, including blocking SARS-CoV-2 3-chymotrypsin-like protease. [ref. 9]
Ginkgo Biloba, in addition to viral infection, is also recommended for inflammation, cough, tumors and stomach ulcers.
In rare cases, the following side effects can be caused: nausea, diarrhea, dizziness.
Artemisia annua (Qinghao) is the plant Sweet wormwood, which contains the active ingredient artemisinin - a natural bioactive sesquiterpene lactone. It inhibits viral replication, inflammation, and certain cancers as described in studies. [ref. 10]
Artemisinin may exhibit anti-cancer properties, according to a scientific review noting that many studies have been done on the anti-cancer effects of sweet wormwood. The researchers note that this impact is due to artemisinin's ability to stop cell growth or disrupt steps in the cell cycle through proliferation pathways. Human clinical trials are needed to confirm the promising potential effects.
There has also been a lot of research looking at the benefits of traditional herbs to help against COVID-19. Different constituents in A. annua may inhibit SARS-CoV-2 attachment, internalization in host cells, and inhibit viral replication and transcription process. Clinical trials are needed to test whether these effects are possible in humans. [ref. 11]
Licorice root is a famous aphrodisiac that is considered one of the oldest herbal remedies in the world. Historical sources for the use of Glycyrrhiza species include ancient manuscripts from China, India, and Greece. All of them mention its use in symptoms of viral infections of the respiratory tract and hepatitis.
Animal studies have shown reductions in mortality and viral activity in encephalitis caused by herpes simplex virus and pneumonia caused by influenza A virus. In vitro studies reveal antiviral activity against HIV-1 associated with SARS coronavirus, respiratory syncytial virus, arboviruses, and others. [ref. 12]
The glycyrrhizin found in Glycyrrhiza glabra has been shown to be effective in viral hepatitis, bronchitis, gastritis and jaundice. Other main ingredients of licorice root are:
Glycyrrhetinic acid

Flavonoids

Hydroxyl coumarins

Β-sitosterol.
Very high doses of intake can increase stress, which can lead to a decrease in potassium levels, high blood pressure, muscle weakness or arrhythmia. It is contraindicated for use by people with a history of ascites, hypertension or kidney failure or who are currently using Digitalis.
Zingiber officinale (Shen Jian)
Ginger is a powerful antioxidant, supports the function of the urinary system and protects the functions of the brain. It has been found to be able to exert anti-SARS-CoV-2 effects and prevent inflammation. Ginger contains various components, including oils, proteins, carbohydrates, crude fiber, ash, water and volatile oil. Chemically, ginger contains over 400 different compounds, but its pharmacological effects are largely due to its terpene and phenolic compounds.
The terpene ingredients of ginger include:
Zingiberen

Bisabolen

Farnesen

Sesquiphelandrene

Limonene

Cineole

Linalool

Borneol

Geranial

Turmeric
Phenolic compounds derived from ginger include:
Gingeroli

Paradols

Shogaoli

Zingeroni.
The listed active ingredients of ginger have anticancer, antioxidant, anti-inflammatory, antiviral, antibacterial, antidiabetic, gastroprotective and neuroprotective effects, described in a large number of studies. [ref. 13]
How to Make Tea With These Herbs
If you have all the necessary herbs in the form of loose tea, brew a teaspoon of the herbal mixture in 200 ml. boiling water for 7 minutes at room temperature. Strain through gauze. Drink 200 ml. up to 2 times a day.