Author: Rositsa Tashkova, Master of Molecular Biology and Microbiology
Cancer is the second most common cause of death in the world after heart disease. In 2018, 9.5 million people died from cancer, mostly from poor countries.
The largest mortality rates have:
Is it possible that the answers are hidden in Eastern medicine?
Scientists are looking for new active substances to be used to create better medicines. One potential source for this is mushrooms, which have long been used in Eastern medicine and have attracted western attention in recent years.
In this article, we will look at some of them and look at their mechanisms of action against cancer cells.
Mushrooms contain a wide variety of active substances, among which polysaccharides are best studied and with the greatest anticancer potential and immunomodulating properties. Beta glucosans have the greatest biological activity and a wide range of action.
There is evidence that some mushrooms work in synergy with conventional cancer drugs and so find application in the treatment of resistant tumors.
Black hoof mushroom (Phellinus linteus)
The homeland of this tree fungus is Japan, but it is also found in China and India. It is also known as meshimakobu, song gen, sanghwang, mesima.
Since one of the causes of cancer cells are the free radicals, antioxidants are important for the prevention of the disease. The mesima mushroom contains the antioxidant hispidin.
Thanks to another substance - hispolone, the extract of the fungus causes apoptosis (programmed cell death) in some cancer cells.
Beta glucans in the fungus have an immunomodulatory and antitumor effect, also suppressing the metastasizing of cancer cells. [ref.2]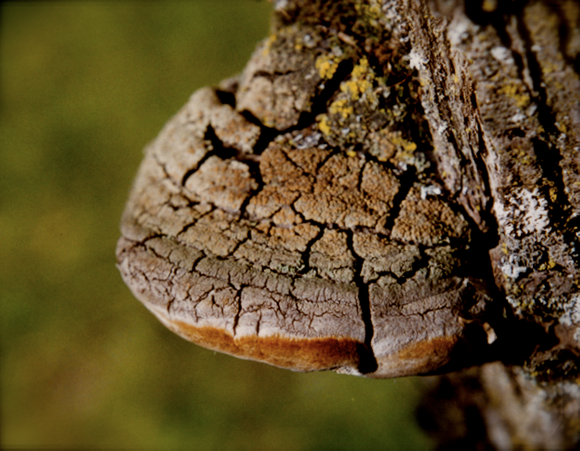 Оyster mushroom (Pleurotus ostreatus)
Aqueous extracts containing polysaccharides from the oyster mushroom have shown an anticancer effect by inducing programmed cell death in cancer cells and suppressing their reproduction. At the same time, in toxicity tests, the extract showed a low one. [ref.3]
Аlmond mushroom (Agaricus blazei)
It has many names: Agaricus subrufescens, Agaricus brasiliensis or Agaricus rufotegulis, mushroom of the sun, God's mushroom, mushroom of life, royal sun agaricus, jisongrong, or himematsutake. The fungus was discovered relatively soon, but its immunomodulating and anticancer properties are provoking waves of scientific interest.
It is used as adjuvant therapy after chemotherapy. Adjuvant therapies are designed to prevent cancer from returning.
Mushroom extracts have potential against leukemia. [ref.4]
Turkey tail (Trametes versicolor, Coriolus versicolor)
Several substances from the turkey tail fungus have the potential to become adjuvant therapy. They have shown activity against cell lines in prostate cancer, breast cancer, lung cancer, stomach cancer and leukemia. [ref.5]
Maitake (Grifola frondosa)
This mushroom is also known as hen-of-the-woods, ram's head or sheep's head.
It was found that beta-glucan from the maitake fungus increases the effectiveness of cisplatin.
Another substance isolated from the fungus - polysaccharide acquires the properties to strongly inhibit the growth of cancer cells and cause apoptosis in them after chemical modification in laboratory conditions. In combination with 5-fluorouracil, the modified polysaccharide from the fungus enhances its anticancer effect. [ref.6]
Reishi (Ganoderma lucidum)
The fungus comes from eastern Asia, has a characteristic shiny purple-brown hat and a thin stump. It has been used in traditional Eastern medicine to treat cancer and fatigue.
Various studies have shown the effectiveness of extracts or individual substances of the fungus against cancer cells in laboratory conditions and in experimental animals. Substances and mechanisms of action are diverse but are often associated with tumor shrinkage or cell death of cancer cells. [ref.7]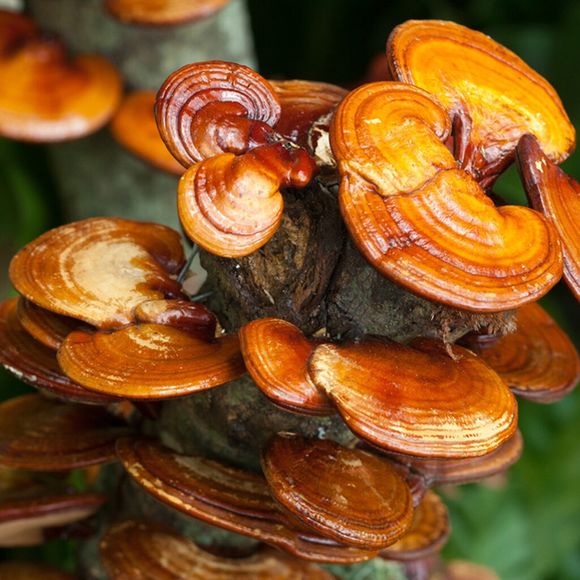 Stout camphor fungus (Antrodia camphorata)
This Taiwanese mushroom attracts more and more attention from scientists as it contains a wide variety of biologically active substances with a wide spectrum of action - including on the immune system, cancer formations, and cardiovascular system.
According to research conducted on the effects of the fungus in cancer cells, its extracts significantly suppress their invasive behavior. [ref.8]
Other mushrooms with anticancer activity
There are other mushrooms that have shown activity against cancer cells in laboratory conditions, although they have not yet been studied.
Red-belted conk (

Fomitopsis pinicola

);

Chaga (

Inonotus

obliquus

);

Lion's mane, monkey fungus, white beard (

Hericium Erinaceus

);

Cordyceps militaris

;

Shiitake (

Lentinula edodes

);

Bay bolete (

Imleria Badia, Boletus badius, Xerocomus badius

);

Mosaic puffball (

Calvatia utriformis, Handkea utriformis, Calvatia caelata, Lycoperdon utriforme

);

Splitgill mushroom (

Schizophyllum commune

);

Enokitake, Velvet shank (

Flammulina velutipes

);

Shaggy ink cap, lawyer's wig, or shaggy mane (Coprinus comatus);

Mild Milkcap (

Lactarius flavidulus

);

Cloud funnel (

Clitocybe nebularis

) and other mushrooms of the genus

Clitocybe

;

Sheep polypore, sweet tooth (

Albatrellus confluens, Polyporus confluens

);

Charcoal burner (

Russula cyanoxantha

);

Tinder fungus, False tinder fungus, Hoof fungus, Tinder conk, Tinder polypore or Ice man fungus (

Fomes fomentarius

);

Hoof fungus (

Fomes fomentarius

);

Suillus placidus

;

Inocybe

umbrella;

Funlia

trogii

.
In the next part of the article, we will dive into more details on some of these mushrooms.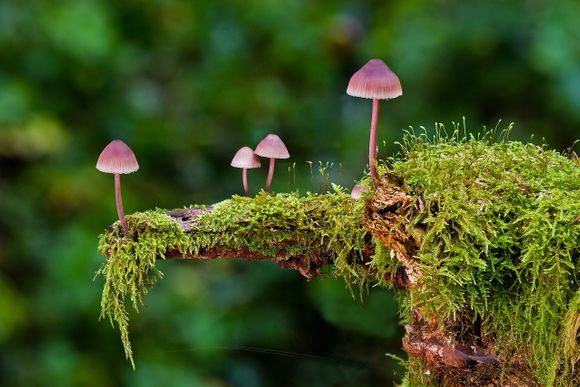 Since cancer is a complex disease that requires attention from a specialist, and some of the fungi can be poisonous on their own or interact with other substances and drugs we take, it is important to consult a medical doctor before starting to take any of them.