What is Calendula and where does it come from
Calendula, also known as Calendula officinalis, is a plant that has historically been used for many different diseases, mainly those affecting the skin, such as wound healing. The healing part of the plant is located in the beautiful, saturated colored orange and yellow flower. [ref. 1] The flower petals of Calendula are rich in flavonoids – naturally occurring compounds found in vegetables and fruits – which have been shown to exhibit anti-inflammatory, antithrombogenic, antidiabetic, anticancer and neuroprotective actions through various mechanisms of action in vitro and in animal models.
Possible uses of Calendula
Calendula is used to treat various diseases affecting the skin, as well as infections and fungi. Research shows that Calendula can be effective in treating diaper rash, wounds, vaginal fungal infections and other skin diseases. Calendula is also used as a means of reducing pain and inflammation, therefore it cat act as a painkiller and has anti-inflammatory properties. It is also used as an aid in the treatment of cancer - specifically for side effects associated with radiotherapy.
The active ingredients of the flower of Calendula are naturally occurring chemicals, such as triterpene saponins (oleanolic acid glycosides), triterpene alcohols (α-, β-amirins, faradiol) and flavonoids (ivercetin and isoramnetin). [ref. 2] It is considered that the photoprotective effect of local gel formulations containing Calendula is associated with improving collagen synthesis in subepidermal connective tissue. There is also evidence that chemicals in Calendula enhance the growth of new tissue in wound healing and reduce inflammation. [ref. 3]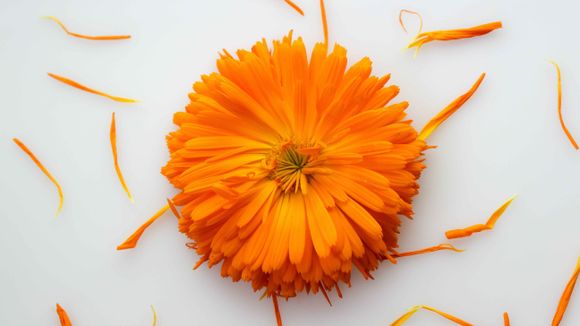 Calendula extract and tea can have beneficial effects for seven aspects, as follows:
Many people claim that the Calendula has other applications, but few of them are supported by science so far. Here are these potential areas of action of Calendula:
It can regulate the menstrual cycle

It can work as a face tonic

It may improve heart health
It may relieve muscle fatigue
Side effects and precautions when using Calendula
It is possible to have an allergic reaction when using products with a Calendula. Therefore, you need to test your skin in advance, applying a small amount of any product with Calendula before using it. People with allergies to other plants of the Asteraceae family, such as German Chamomile and Mountain arnica, may be more susceptible to an allergy to Calendula. In addition, it may be best to avoid products with Calendula during pregnancy to reduce the risk of miscarriage, given the purported effects of the herb on menstruation.
How to make a Calendula tea - three easy recipes
🌼 Tea of fresh colors of Calendula 🌼
Put a handful of fresh Calendula colors in a jar or kettle. Pour in boiling water and leave to soak for 3-4 minutes. Strain, add honey as desired and enjoy!
🌼 Tea from dried Calendula petals 🌼
If you buy herbal tea from the store, these are just petals of dried flowers. You can either dry the petals of the plant yourself, or buy the herb Calendula in bulk. Add 1-2 tablespoons of dried petals to a glass and pour with 1 cup of boiling water. Leave to soak for 3-4 minutes, add honey if desired, and enjoy.
🌼 Calendula infusion 🌼
If you want your Calendula to have powerful healing effect and a stronger taste, try the infusion. The infusion is created by letting the herbs soak in water for a longer period of time, usually overnight, in order to extract all minerals, aromatic oils, enzymes, vitamins, etc.
Use 1-2 tablespoons of dried petals of Calendula (or 3-4 fresh colors) per glass of water. Add Calendula to a jar or kettle and pour in boiling water. Allow to infuse overnight before use.