Posted by
Rositsa Tashkova-Kacharova
11 Herbs With Analgesic and Anti-inflammatory Effect
A lot of people suffer from chronic pain that does not respond to medication, or the medicine itself has adverse effects. Often the cause of pain is inflammatory processes. Here we will consider the types of pain and herbs that have an analgesic and anti-inflammatory effect.
The link is saved to the clipboard
Author: Rositsa Tashkova, Master of Molecular Biology and Microbiology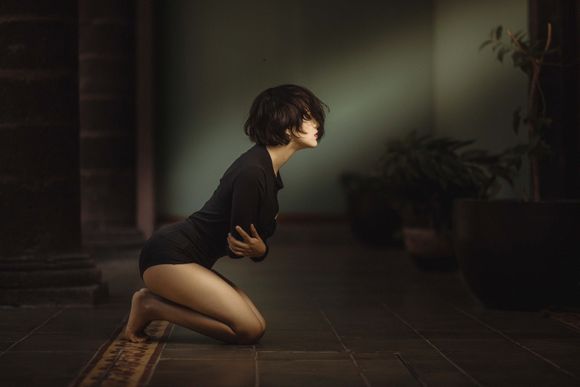 Pain is probably the number one sensation we want to get rid of as soon as possible. A lot of people suffer from chronic pain that does not respond to medication, or the medicine itself has adverse effects. Often the cause of pain is inflammatory processes.
In this article, we will consider the types of pain and herbs that have an analgesic and anti-inflammatory effect, especially in neuropathic pain, osteoarthritis and rheumatoid arthritis.
Types of Pain
Pain is different, depending on its origin and character [ref.1]:
Somatic pain: it

is caused by the activation of pain receptors on the surface of the body or in musculoskeletal tissue, which can be caused by a combination of factors such as abnormalities, inflammation, recurrent trauma, excessive activity, vigorous stretching and contractions due to paralysis.

Visceral pain:

it is associated with damage to internal organs and is the most common form of pain, it is the result of the activation of pain receptors in the chest, abdomen or pelvis.

Neuropathic pain: caused by an injury or malfunction of the spinal cord and peripheral nerves, the

sensation can be burning, tingling, pricking

.
Acute pain: the result of tissue damage or injury, which usually disappears when the injury is treated or the cause of the pain is removed. It is

short-lived and

usually manifests itself in ways that can be easily described and monitored.
Chronic pain: this pain is more subjective and lasts more than three months. Treatment of

chronic pain is a great challenge for doctors, as it changes the quality of life of the patient.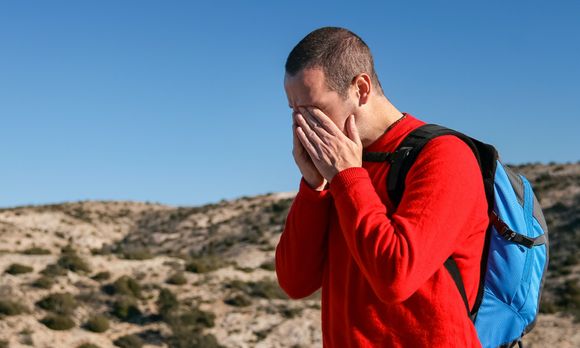 Sweet Flag (Acorus calamus)
Sweet flag, also known as calamus, has anti-inflammatory, antioxidant and neuroprotective action. It is used to treat inflammatory diseases in traditional Indian medicine.
Sweet flag aqueous-alcohol extract has been successfully used to relieve neuropathic pain in rats. These effects may be due to numerous mechanisms: antioxidant, anti-inflammatory, calcium-inhibiting and neuroprotective action.
Read more in the article What are the benefits of antioxidants for health and which foods are richest to them.
Tarragon (Artemisia dracunculus)
Tarragon is also known as estragon. It has an antioxidant, anti-inflammatory and analgesic effect.
There is evidence that it can help sufferers of neuropathic pain caused by a prediabetic condition or obesity.
Read more in the article Obesity and overweight - are there effective herbs against them.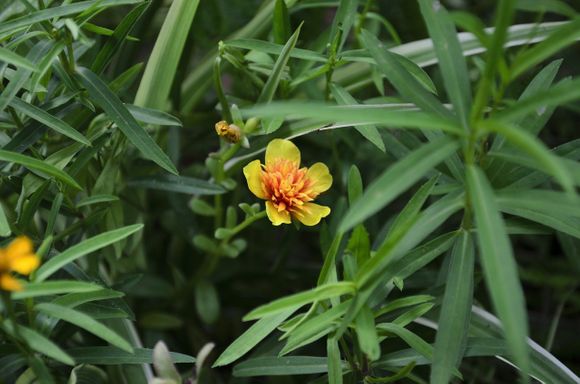 Turmeric (Curcuma longa)
The main active substance in turmeric is curcumin, which has anti-inflammatory and antioxidant action.
It may relieve pain in osteoarthritis and neuropathic pain.
Due to its anti-inflammatory action, curcumin can be effective against inflammation in rheumatoid arthritis and suppress symptoms such as joint swelling and morning stiffness. [ref.2]
Read more in the article What are free radicals and antioxidants.
Saffron (Crocus sativus)
Saffron is grown in Iran, India and Greece. It is traditionally used as a spice and to treat bronchospasm, insomnia, asthma, menstrual problems, pain relief and cardiovascular disorders.
Read more in the article Herbs for a healthy heart. Part 1.
Aqueous and alcohol extracts of saffron have analgesic effects, including in neuropathic pain. And stamens have an anti-inflammatory effect.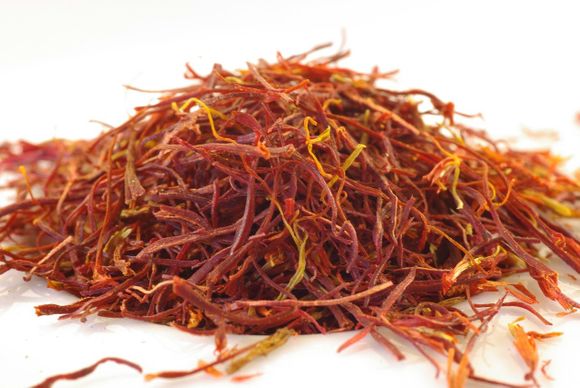 Russian Olive (Elaeagnus angustifolia)
It is also known as silver berry, oleaster, or wild olive. In Iranian traditional medicine, the fruits of Russian olive are used to relieve pain in rheumatoid arthritis. They have anti-inflammatory action and relax muscles. Probably these effects are due to flavonoids, which are contained in the fruits of the tree.
According to one study, extract from the plant relieves osteoarthritis pain as successful as ibuprofen, without adverse side effects. [ref.3]
Rosemary (Rosmarinus officinalis)
Rosemary has a strong anti-inflammatory effect and can relieve pain in sufferers of osteoarthritis and rheumatoid arthritis.
Holy Basil (Ocimum tenuiflorum)
The holy basil is also known as tulsi or Ocimum sanctum.
In Ayurveda it is recommended for the treatment of arthritis and painful eye diseases. Its analgesic effect is also confirmed in laboratory animal studies, and it is believed that the decrease in neuropathic pain that the herb demonstrates is due to the saponins in it.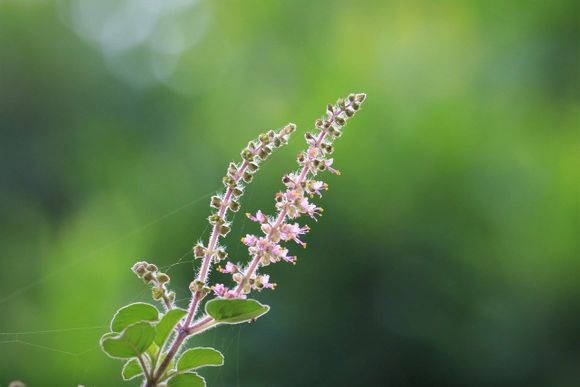 Borage (Borago officinalis)
Borage is also known as starflower. It has anti-inflammatory effect and its seed oil can help those suffering from rheumatoid arthritis by suppressing the synthesis of inflammation-related tumor necrotizing factor alpha (TNF-α).
According to some clinical trials, borage seed oil also has a beneficial effect in sufferers of atopic dermatitis.
Read more in the article Atopic dermatitis in children and adults.
It is contraindicated in pregnancy, as it can cause an abortion.
Chanka Piedra (Phyllanthus amarus)
Several species of the tropical genus Phyllanthus are widely used in traditional medicine to treat a host of diseases, including influenza, diabetes, jaundice and bladder stones. Chanka piedra demonstrates analgesic action in neuropathic pain, probably due to its anti-inflammatory properties.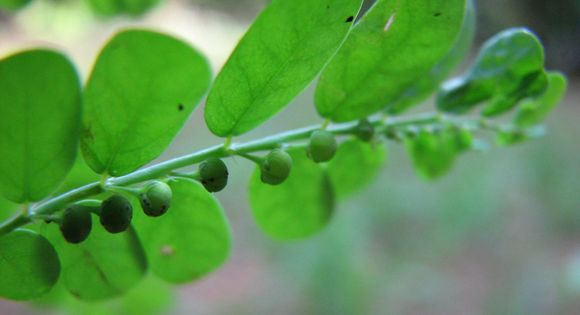 Black Cumin (Nigella sativa)
Black cumin is rich in oils, and in the essential oil of the herb the active substance thymoquinone is detected.
Black cumin and timoquinone have been found to have an antioxidant and analgesic effect, but they also have a beneficial effect in diabetes sufferers, as they cause a significant decrease in increased glucose in the blood and a decrease in insulin concentration. And diabetes is a common cause of neuropathy.
Read more in the articles About type 2 diabetes in one place and 5 herbs useful for diabetics and people at risk of the disease.
Sage (Salvia officinalis)
Sage can be used to relieve headaches and neuropathic pain. It has anti-inflammatory and antioxidant properties.
The active substance in it - salvigenin, has a strong analgesic effect, similar to morphine.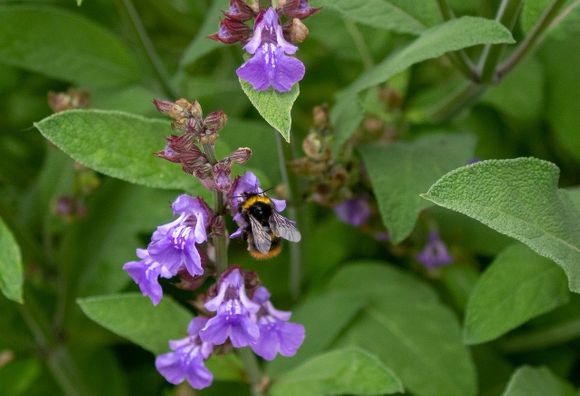 Substances of Plant Origin With an Analgesic Effect
There are isolated and specific substances from medicinal plants, which in themselves have an analgesic effect. These are:
A9-tetrahydrocannabinol/cannabidiol (THC/CBD) - from cannabis (

Cannabis

sativa

);

Quercetin - from various fruits and vegetables, onions, apples, tea and cabbage;

Lappaconitine - from

Aconitum

;

DA-9801 - from

Discorea

;

TJ-107 (Goshajinkigan) - a drug containing 10 medicinal herbs, which is usually prescribed to improve the symptoms of diabetic peripheral neuropathy, for example, feeling cold and paresthesia/dysesthesia (tingling, atypical sensations on the skin, not corresponding to irritation);

Naringin - from grapes and citrus fruits;

Incarvillateine - from the Chinese herb

Incarvillea sinensis

;

Koumine - from Gelsemium.
Herbs have great potential in the fight against pain and inflammation. Of course, it is good to start their use after consulting a doctor, and depending on the type of pain and the causes of it since they are numerous, and each of the listed herbs has its own unique mechanism of action, which would manifest itself in specific cases, and in others - not.
References:
Analgesic And Anti-inflammatory Herbs: A Potential Source Of Modern Medicine, 2010, International Journal Of Pharmaceutical Sciences And Research

Review of Anti-Inflammatory Herbal Medicines

, 2016, Advances in Pharmacological Sciences
The author:
👩 🔬 Rositsa Tashkova-Kacharova has a Bachelor degree in Molecular Biology and a Master's degree in Microbiology and Microbiological Control. She completed her Master's thesis at the University of Nantes, France. At that time she painted a Christmas tree of bacteria and inspired the announcement of the first competition for drawing with microorganisms Agar Art. For 3 years she was the editor of the journal Bulgarian Science and continues to write about science and medicine.